Retail Countertop Displays
Project Details
Claybourne Co. was launching a new product line in a highly competitive $4.4B market. So, how do you get retail shelf space and grab eyeballs? Make an Award-Winning countertop display, of course! PrintMyStuff engineered, printed & fabricated 50 of these using back-printed clear acrylic (for depth) and aluminum DIBOND (for strength in a compact package). We made the bottle labels, too! (Clear vinyl with full-color printing + spot white)
This display won top honors in the 2021 Application Innovation Awards for the Labels/Packaging category. Woot!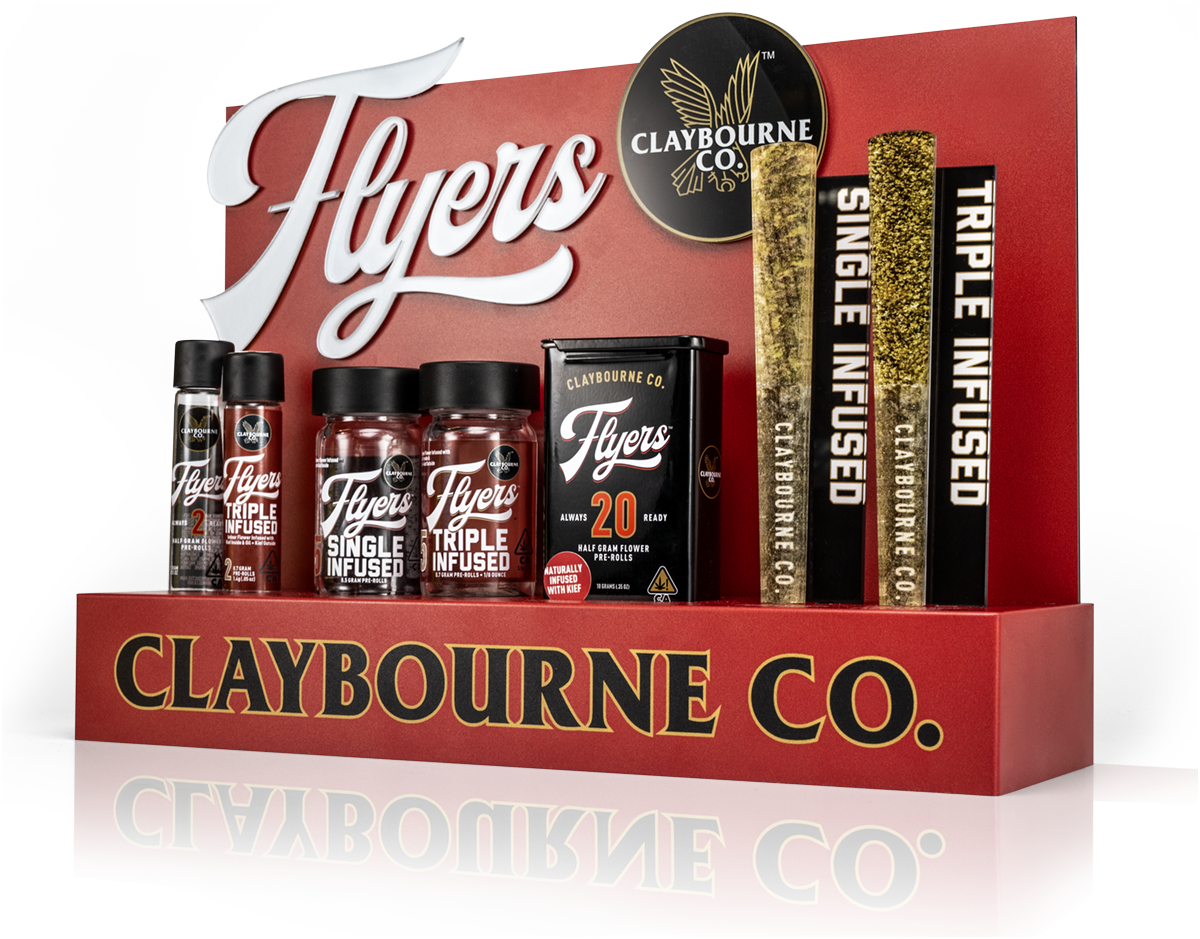 Production Details
Base and backer
Sheets of 48″x96″ Aluminum DIBOND were printed on our flatbed UV printer. The sheets then went to our CNC to get v-channels routed for folding and cut out with tabs. The bases were assembled by folding the DIBOND and snapping the tabs together, making for an exceptionally strong and lightweight box. No need for extra hardware or adhesives! The backer used extra long tabs that interlocked with the base.

Lettering, logo & samples
Though it would be easier to print directly onto white acrylic, back-printing on clear acrylic created depth by catching and reflecting light from multiple angles. These were also printed on our flatbed UV printer using full-color + spot white ink. The need for sharp angles, tight cuts, and polished edges meant a trip to the laser cutter. The letters and logo were attached to the backer with high bond adhesive and the product samples were simply inserted into the tight-fitting base.
Base insert
High-density composite foam board was CNC'd to size and channeled to allow space for the backer tabs to be inserted. It was used inside the base to provide a platform for the sample packaging and rigidity to the backer and product samples… they stay rock-solid when the display is handled or moved.
Bottle labels
The labels were digitally printed on clear vinyl in full-color with spot white ink, then cut to size.
WINNER
2021 Application Innovation Awards
Labels/Packaging Category
Showcase Your Products & Claim Retail Shelf Space!
Point-of-purchase real estate is valuable to your retailers. Give them a reason to put your products in front of their customers with attention-grabbing countertop displays from PrintMyStuff!
"Trust is integral to the Claybourne brand. We're dedicated to providing a consistent, high-quality product and experience. For that same reason, we rely on PrintMyStuff for our packaging, merchandise, and collateral. They understand our business and we know the job will get done right and on time. Having a trusted partner to handle our printing needs allows us to focus on what matters most, producing the next generation of premium flower-based products for our customers to enjoy." – Jonathan Griffith, Vice President of Marketing & Co-Founder, Claybourne Co.